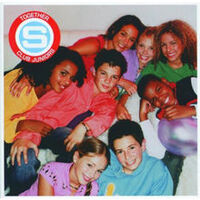 Together was the debut album by S Club Juniors. It was released in 2002 and went to #5 on the UK album charts. The album as sold 600,000+ making it x2 Platinum.
New Direction
One Fine Day
Puppy Love
Feel The Beat
Wherever You Are
I Come Alive
Together
Only You
Anytime Anywhere
You Are The One
Ad blocker interference detected!
Wikia is a free-to-use site that makes money from advertising. We have a modified experience for viewers using ad blockers

Wikia is not accessible if you've made further modifications. Remove the custom ad blocker rule(s) and the page will load as expected.