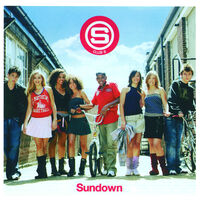 Sundown is the second album by British pop group S Club 8. The album was released in 2003 and went to #13 on the UK album charts.
Don't Tell Me You're Sorry
Love To The Limit
Turn The Lights On
Searching For Perfection
One Thing I Know
Sail On Through
Big Fun
The Day You Came
Pretty Boy
Rush
I Just Came to Dance
Drawn to You
Tears on My Pillow
Don't Tell Me You're Sorry
Ad blocker interference detected!
Wikia is a free-to-use site that makes money from advertising. We have a modified experience for viewers using ad blockers

Wikia is not accessible if you've made further modifications. Remove the custom ad blocker rule(s) and the page will load as expected.