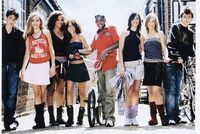 S Club 8, previously known as S Club Juniors, was a spin-off of the UK pop group S Club 7. The group's members, Jay Asforis, Daisy Evans, Calvin Goldspink, Stacey McClean, Aaron Renfree, Hannah Richings, Rochelle Wiseman and Frankie Sandford, were all in their early teens or younger when they were chosen from thousands of hopefuls on the S Club Search (2001) television series.
The group was originally intended only as a support act at Wembley Arena on S Club 7's S Club Carnival Tour. The group also had its own documentary series, S Club Juniors: The Story. They appeared in I Dream on CBBC.
Ad blocker interference detected!
Wikia is a free-to-use site that makes money from advertising. We have a modified experience for viewers using ad blockers

Wikia is not accessible if you've made further modifications. Remove the custom ad blocker rule(s) and the page will load as expected.